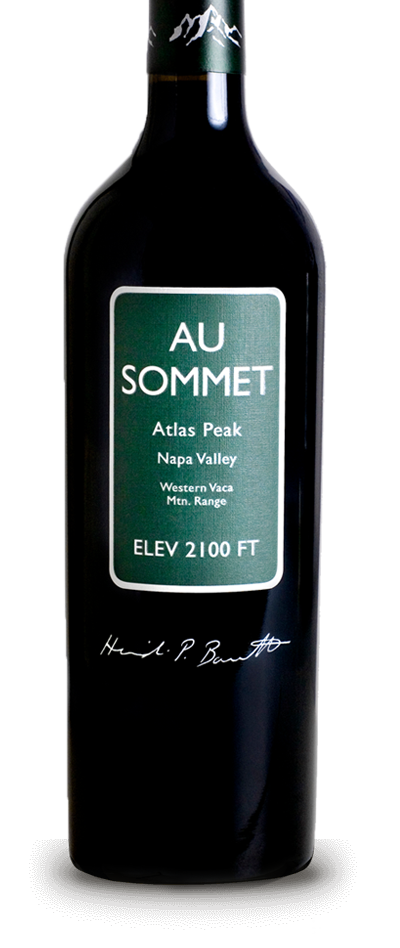 Au Sommet
2016 AU SOMMET NAPA VALLEY CABERNET SAUVIGNON
Au Sommet (o-so-may)...To the top, the very highest point at which we excel at what we do!
We are pleased to offer you a three-bottle allocation of Au Sommet 2016 Cabernet Sauvignon.
The 2016 vintage in Napa Valley is being hailed as one of the best since 2007. The blend of 96% Cabernet Sauvignon and 4% Petit Verdot from our 45-acre estate (elevation 2100 ft) exemplifies the glory of mountain fruit and what it brings to the complexity of the wine.
We encourage you to secure your allocation in a timely manner. The Au Sommet 2016 will ship to you next fall. You may submit the attached order form or email Eileen@AmuseBoucheWine.com.
You may also request a large format on a first-in basis. Renowned Cuban artist, Jose Fuster (known as the Picasso of the Caribbean), remarqued a few of our Jeroboams, and these original pieces of art are available as well.
The Wine Advocate
2016 Vintage
"Deep garnet-purple in color, the Au Sommet 2016 Cabernet Sauvignon gives up exuberant crushed blackcurrants, warm plums, wild blueberries and cloves with suggestions of violets, tilled black soil, tar, chargrill and cedar chest with a waft of unsmoked cigars. The palate is full-bodied, firm, grainy and refreshing with incredible intensity, finishing very long and earthy." - Robert Parker, The Wine Advocate, October 2018
The Wine Advocate
2015 Vintage
"Deep garnet-purple in color, the 2015 Cabernet Sauvignon struts out of the glass with bold cassis, crushed black cherries and blackberries with touches of menthol, pencil lead, tapenade, lavender, espresso and bay leaves. The lively palate is full-bodied with firm, grainy, super ripe tannins and a fantastic mineral-tinged finish." - Robert Parker, The Wine Advocate, October 2018
Antonio Galloni
2015 Vintage
"John Schwartz's 2015 Au Sommet is superb. Nuanced, polished and super-delicious, the 2015 possesses exceptional finesse and texture in the mid-weight, gracious style that is Heidi Barrett's signature. The flavors are dark and incisive in this dark, sumptuous Cabernet Sauvignon. Even so, the 2015 retains terrific freshness for the year. Black cherry, lavender, graphite, plum and menthol add striking layers of nuance." - January 2018