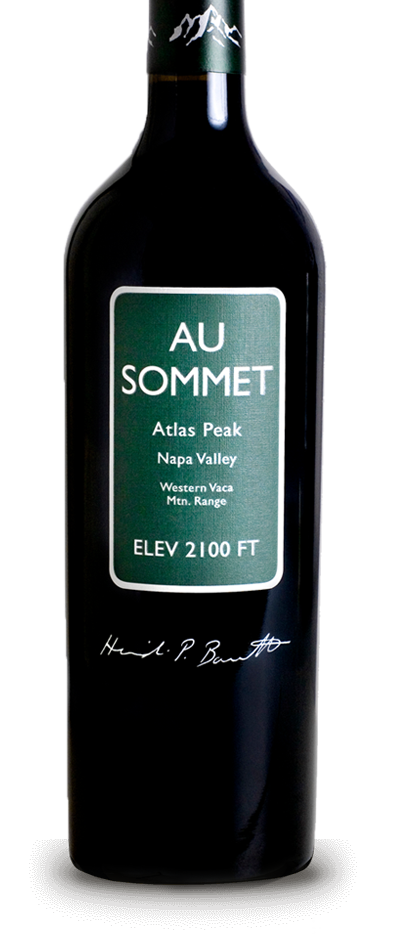 Au Sommet
2019 Au Sommet Napa Valley Cabernet Sauvignon
Sold Out
Au Sommet (o-so-may)...To the top, the very highest point at which we excel at what we do!
We are pleased to offer you a three-bottle allocation of Au Sommet 2019 Cabernet Sauvignon.
We are certainly facing a new challenge to winemaking in California. As I write, a historic fire season continues to consume unfathomable acreage in our state, sending smoke as far as the east coast and Europe. Napa Valley was (again) an epicenter when lightning strikes ignited the Hennessy Fire that advanced out of control toward Atlas Peak throughout the night of August 17 and eventually encircled Au Sommet two days later.
As you know, we opted not to produce a 2017 vintage due to the fires that ravaged wine country during the harvest in October. Then in 2018, the Camp Fire up north in Paradise dropped enough smoke on Napa Valley during veraison in late July that the potential smoke damage gave us pause. Now, more than likely, most of the 2020 vintage in Napa Valley for red grapes will be jeopardized as well. It is hard to believe that three of the last four years were blighted by smoke — an unprecedented hazard in our wine industry. Although some wineries will release wines from the various vintages, we decided that our integrity and brand identity (and your palates!) are far too important to produce a wine that falls even slightly below our high threshold for the best possible juice from our estate.
In the meantime, we are pleased to offer you an allocation of our 2019 Au Sommet Cabernet Sauvignon. It is a magnificent and true reflection of our gorgeous vineyards sitting 2100 feet atop Atlas Peak. The blend is 97% Cabernet and 3% Petit Verdot.
We produced 535 cases along with a few dozen 1.5L magnums and even fewer 5L jeroboams. All of the large formats are hand-signed by Heidi.
Au Sommet Cabernet Sauvignon is unlike so many other Napa Cabs due to the elevation of the mountain fruit and minerality/earthiness that the grapes obtain from the volcanic soils and deep-rooted vines. The 2019 growing season was ideal, even-tempered, affording the grapes extended hang time and concentration.
The 2019 vintage is sold out. Join our mailing list to receive notifications of our next release.
Antonio Galloni
2019 Vintage
"The 2019 Au Sommet Cabernet Sauvignon is magnificent. A classic mountain wine, the 2019 offers up an exciting mix of dark fruit, gravel, graphite, savory herbs, chocolate and menthol. The bouquet alone is mesmerizing, but there is plenty of fruit depth, complexity and overall structure, too. Quite simply, the 2019 is one of the best wines I have tasted from John Schwartz's Atlas Peak estate. Sadly, there is no 2018 or 2020."
- Antonio Galloni, January 2022
James Suckling
2019 Vintage
"Loads of crushed stones and wet earth on the nose with some blackberries. Medium-to full-bodied and linear with creamy tannins. Pine needles, bark, nuts and blue fruit. Reserved and fine. Fresh at the end. A beauty already, but it will evolve nicely with bottle age. Drink or hold."
- James Suckling, November 2021
The Wine Advocate
2016 Vintage
"Deep garnet-purple in color, the Au Sommet 2016 Cabernet Sauvignon gives up exuberant crushed blackcurrants, warm plums, wild blueberries and cloves with suggestions of violets, tilled black soil, tar, chargrill and cedar chest with a waft of unsmoked cigars. The palate is full-bodied, firm, grainy and refreshing with incredible intensity, finishing very long and earthy."
- Robert Parker, The Wine Advocate, October 2018
The Wine Advocate
2015 Vintage
"Deep garnet-purple in color, the 2015 Cabernet Sauvignon struts out of the glass with bold cassis, crushed black cherries and blackberries with touches of menthol, pencil lead, tapenade, lavender, espresso and bay leaves. The lively palate is full-bodied with firm, grainy, super ripe tannins and a fantastic mineral-tinged finish."
- Robert Parker, The Wine Advocate, October 2018
Antonio Galloni
2015 Vintage
"John Schwartz's 2015 Au Sommet is superb. Nuanced, polished and super-delicious, the 2015 possesses exceptional finesse and texture in the mid-weight, gracious style that is Heidi Barrett's signature. The flavors are dark and incisive in this dark, sumptuous Cabernet Sauvignon. Even so, the 2015 retains terrific freshness for the year. Black cherry, lavender, graphite, plum and menthol add striking layers of nuance."
- January 2018